The Woman Behind the Canvas
---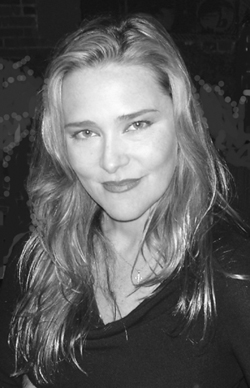 Lauri Blank was destined to be a creative soul with a burning passion for art. Raised by an artistic mother who attended design school in NYC, and grandparents that are still performing musicians (well into their 80's), Lauri was constantly engaged by creativity and artistic expression; the foundation of a future art career.
At the age of 12, Lauri was honored by The Norton Museum of Art who included one of her figurative paintings into an international art tour.
As her talent grew, Lauri found herself naturally drawn to the imagery and complexities of the human form. She especially focused on the female form, learning to capture its very essence on her canvas. Uninhibited by conventional or formal training, her talent took on an original life of its own. Lauri's artwork exhibits an unblemished romantic realism long forgotten by commercially driven, modern day trends. The appeal of her work is timeless. She continues to evolve her passion, taking great care in developing each individual composition. What is most remarkable is that she does not use live models. The images create themselves.
Her talents were immediately recognized by patrons in Washington D.C. and the Miami area, where she accepted numerous important commissions. And in 2001, Lauri's career would take a different turn, one that resembled one of the masters she studied for most of her life. Lauri Blank was commissioned to paint the ceiling of an 19th century church in Old Montreal. For months, the artist worked day and night painting the Cathedral's ceiling while standing on scaffolding that had a five-story drop onto the marble floor below. It was the most magical experience she has ever had and is most proud of this work.
Blank received international coverage within Architectural Digest and her Old Montreal Cathedral work was featured on HGTV. She has been called "The Ft. Lauderdale areas own Michelangelo".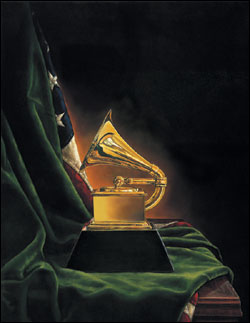 Blank's work has been exhibited in galleries throughout the nation. She receives frequent media attention and has appeared on numerous magazine covers throughout the nation. In 2002, Blank was selected as the artist for the 2002 Grammy Awards. Her "Post 911" Grammy work symbolized the patriotism of a nation blended with our love of music.
Lauri's style of melding the techniques and icons of the old master with today's cultural ideology, has won her acclaim. Her powerful images, along with her passion and devotion jump off the canvas and transport the viewer into a by-gone era. Her own imitable style, which the artist refers to as "Romantic Figuratism," brings a sense of peace and reflection to the modern day world. "The passion in my heart…influences and fuels my love of art and my profession" says Blank of her accomplishments.